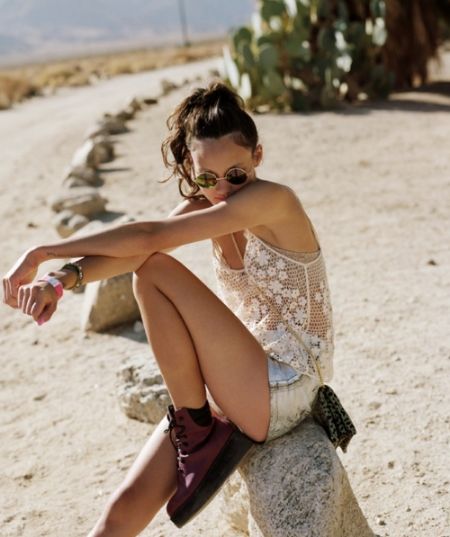 It's two days before Coachella and the beginning of the music festival season. This week, anyone who's anyone is packing up their tribal print dresses and crop-tops to be front and center at the biggest concert of the year. Though most folks go to see the musical talent of everyone from Janelle Monae to Phoenix, some simply go to show off their style-skills.
One must be innovative and thoughtful when deciding on what to pack for a festival. You have to keep in mind that it will be hot and obviously very crowded. That's why keeping your options stylish, yet functional is key. I love the idea of a tribal print maxi with cut-outs (like the one featured below). Pair it with some flat sandals and a studded bag for an effortlessly cool vide. You'll also notice that many Coachella-goers will choose to rock short-shorts and a bikini top and call it a day.
As with most events, dressing for summer's upcoming festivals should be fun and serve as a platform to show off your personal style. So whether you're an indie-chic kinda gal in free-flowing silk dresses or take your fashion cue from Janis Joplin in fringe shorts, there's options for every Coachella style-setter.
Shop the Look:
Photo Credit: Urban Outfitters